Het is een bekend fenomeen: bij rampen stuurt Israel, net als veel andere landen overigens, snel en adekwate hulp. Israel heeft ervaring in het snel handelen bij rampen en aanslagen en beschikt over moderne technologie, en dat komt in zulke situaties goed van pas. Men biedt soms zelfs hulp aan aan vijandige landen als Iran. Hoewel dit past binnen de normen van het verkeer tussen landen, wordt Israels royale gebaar door antizionisten steevast aangegrepen om Israels 'hasbara' weer eens te hekelen. Israel zou met deze hulp haar 'misdaden' tegen de Palestijnen willen wegpoetsen en internationaal goede sier maken. Hieruit spreekt, zoals Elder of Ziyon ook al aangeeft, een diepe en niet rationale afkeer van Israel. Het is immers alleen maar goed dat er op deze manier weer een paar Filippino's worden geholpen en de zo noodzakelijke medische zorg krijgen.
Maar is het dan niet ergens pijnlijk om te zien hoe het leger dat Palestijnen vernedert nu voor de door een ramp getroffen Filippino's alles uit de kast haalt? Tja. Wat mensen die zo denken even vergeten, is dat Israel ook vele Palestijnen in haar ziekenhuizen behandelt. Zopas heeft men nog getracht om het eenjarige kleindochtertje van Hamas leider Haniyeh te helpen, maar dit mocht niet baten.
RP
-----------
Mondoweiss seems to prefer dead Filipinos to Israelis saving them
http://elderofziyon.blogspot.nl/2013/11/mondoweiss-seems-to-prefer-dead.html
The US is sending aid to the Philippines. Isn't that sickening?

I mean, how can the US army and navy, responsible for so many deaths in Asia since the Korean war, dare show their faces in that part of the world and dare to help people?

Even worse, the US Department of Defense and the Stars and Stripes news and other government agencies are publicizing what they are doing! It is all a huge PR stunt, as even the media admits that it helps the US image! The sheep-like reporters go along with this charade, putting out positive stories about what the US is doing without even once mentioning Agent Orange or the My Lai massacre or extrajudicial killings by drones in Pakistan.

Aren't you outraged?

OK, how about this: Other nations are using their media to publicize their typhoon relief efforts. Reporters are putting out positive stories! Countries are issuing statements! This is happening in countries that have wiped out their indigenous peoples like Australia and Canada, and even in the colonialist UK!

Even worse, Coca Cola publicized the $2.5 million they gave in aid to the ravaged country. They didn't bother to mention how much their products also contribute to obesity and heart disease worldwide. No, it was pure public relations.

Now, are you outraged yet?

No? You aren't????

Congratulations. You are not as filled with frothing-at-the-mouth hate that Philip Weiss of Mondoweiss and his many fans are consumed by.

He saw a positive piece on NBC News about Israelis helping hundreds of Filipinos and he couldn't stand it:


Nancy Snyderman is NBC's medical correspondent. She's been in the Philippines and tweeted this photo yesterday.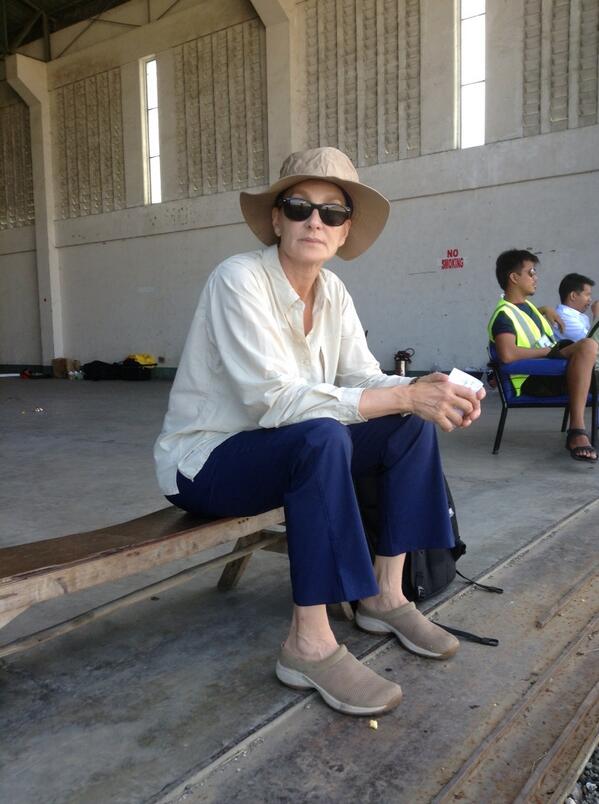 The Israeli army's spox for international media was also tweeting about the Israeli army's achievement.


Snyderman got out a story fast, on the Today Show. She puffed the Israeli army:

We've heard a lot of sad stories. Now we're starting to talk about hope. Today the Israelis opened up shop in an area that has had very little attention… Quietly with no fanfare, the Israeli Defense Forces arrived too. The Israelis are known for security, top notch medicine and moving quickly. Dealing with a disaster is no exception…

One hour after their doors were opened, the first baby was born… The baby boy's name? Israel of course.

The IDF spokesman hopped on the news.

..It seems to have made Fox, too.

...The IDF can't stop kvelling over the baby.

Snyderman now has a blog up at NBC, "in awe" of Israeli medics, "medicine at its very best" and humanitarianism of the highest order:

I've always been fascinated by how well the Israeli Defense Force, otherwise known as the IDF, delivers emergency response medical care in extremely poor conditions. My first experience with the IDF was in Haiti after the devastation of the earthquake there. They were remarkable then, triaging and treating patients in the midst of the devastation.

I wondered if they had found their way here — so we set off to find them. And when we did, it was in a place we least expected…

Smart. Sophisticated. Secure. This was what I had experienced with the IDF before. But now I was impressed with something else: the place they had selected. …

I asked the IDF Surgeon General in charge why they chose Bogo. He said it was because they were poor and their needs were great. As I left, I walked away in awe of this group of doctors: physician humanitarians, and medicine at its very best.

P.S. This is called hasbara, getting out the Israeli story for the world. I wonder when was the last time Snyderman did a report from the West Bank or Gaza.
Horrors! Not only is the IDF daring to save lives of non-Jews, but it is tweeting about it! Without mentioning the occupation!

This is only a tiny indication of the deep psychotic problems that the Mondoweiss writers, and most of its readers, suffer. Read the comments on that piece - you can almost feel the spittle that sprayed onto their keyboards and screens as the Mondo crowd vented their rage because Israel is saving lives, andthey are forced to read about it.

This is all the proof you need to see that Israel-bashers aren't motivated by morality or rationality. They simply hate, and they build their entire lives around that hate. Their revulsion for everything remotely Zionist is indistinguishable from the hatred of racists and bigots throughout history.

Their hate is their defining quality.

(h/t Max)

UPDATE: Not surprisingly, Ali Abuminah and Max Blumenthal have the exact same mindset. (h/t Ian)