Als het in eigen land rustig is, kunnen Israelische veldhospitalen van de IDF ingezet worden bij rampen elders op de wereld.
Wouter
IDF aid mission treats 370 patients in Philippines field hospital
Israeli relief organization IsraAID heads to more remote areas of typhoon-struck country to provide humanitarian and medical relief
November 16, 2013, 8:33 pm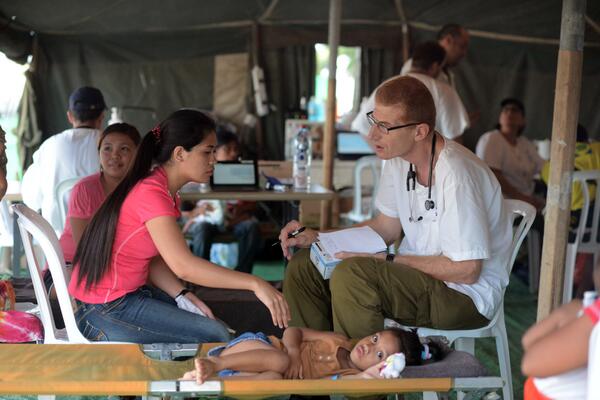 T
he IDF announced Saturday evening that its aid mission to the Philippines has so far treated some 370 Filipinos, including 150 children, in the field hospital set up in the country on Friday morning.
The IDF humanitarian mission completed the set up of the hospital early Friday, after departing for the storm-ravaged city of Daanbantayan, in the northern province of Cebu, late Wednesday with about 100 tons of supplies.
The 147-member group, comprising national search-and-rescue unit officials and senior doctors in the IDF medical corps, was tasked with rapidly setting up a "multi-department medical facility" to provide medical care for casualties of the disaster. The facility has children's, women's and ambulatory care departments, as well as a general admission department.
The IDF's IDFRescue account on Twitter released several pictures of the mission's activities since the field hospital was completed.
On Friday, the army tweeted that the first baby boy delivered by members of the IDF mission in the field hospital will be named "Israel."
"It's a boy!" wrote IDF Spokesman Peter Lerner, "amazing news coming out of the IDF field hospital. First baby delivered. The thankful mum named him Israel."
The Israeli aid relief organization IsraAID on Saturday said it was heading to more remote areas of the typhoon-struck country to provide medical and humanitarian aid to those affected by the storm.
The organization also said it was now registered with the UN Coordination Office which is coordinating all humanitarian agencies in the country and seeking to set up "protection centers for children and women while camps are starting to be built."
Earlier in the week, the relief group reported rampant disorder in Tacloban, considered ground zero of the disaster site, where desperate survivors of the typhoon were dying in the fight for food and aid workers need military escorts for protection.
"The situation there is disastrous," IsraAid said Wednesday. "People are rioting due to the lack of food, clean water and access to health facilities and accommodation."
The death toll from the typhoon, which made landfall in the central Philippines last Friday, could be at least 10,000, according to reports, though the official death toll currently stands at more than 4,000.
The United Nations says the storm affected 11 million people in all, more than 670,000 of whom lost their homes. The enormity of the task of helping them all has pressed the resources of the Philippines hard.